Kharkiv, Mariupol, Kyiv, Borodianka are difficult to recognize today even for the indigenous people. In the memories, they are cozy and beautiful, with sights, monuments of architecture and places where everyone liked to meet, have lunch, work and relax. How do the streets and avenues, well-known to their local residents, look like after a month of war? We can also see these catastrophic changes, they are shown by Andrey Goopsa, a designer from Kharkiv, in his works.
— Andrey, tell us a bit about yourself: where do you live and what do you do?
— I am from Kharkiv, I was born and grew up there. I used to consider myself primarily a video blogger, and secondly, a designer. Now it's the other way around. A YouTube channel has been a huge part of my life. What I haven't just filmed: traveling through the abandoned places of Ukraine, drawing art by hand on camera and much more. As a result, I have come to the fact that I am engaged in orders related to architecture. For example, there is a company that manufactures products from granite. They are approached, for example, by the mayor of the city with a request to refine some park. And I, based on the current photo, using the graphics, show what will turn out in the end. That is, I am not just making a detached 3D project, but a realistic presentation based on before and after photos with reincarnation animation.
— The whole world knows and sees what is happening in Kharkiv now. Despite this, tell us about what is happening in Kharkiv in the words of an eyewitness.
— Our tanks and not ours, overturned cars, wires hanging over the roadway, destroyed Khrushchev 5-story buildings. I saw all this, of course, driving into the city. Not to mention the fact about constant sounds of explosions. This has generally become the norm.
— The photos of Ukrainian cities before and after the destruction caused by the russian invasion — how did they appear?
— I have huge experience in creating realistic pictures before and after. And I thought that I could show the world the consequences of the russian invasion in the most possibly visual way.
There is an interesting fact: a few weeks before the attack, they wanted to order a project from me. The task was to show what would happen to Kharkiv if Russia attacked. That is, I had to simulate the destruction of cities. But ironically, now both "before" and "after" can be found simply on the Internet using real (unfortunately) photos.
The center of Kyiv before and after the Russian rocket attack
© Andrey Goopsa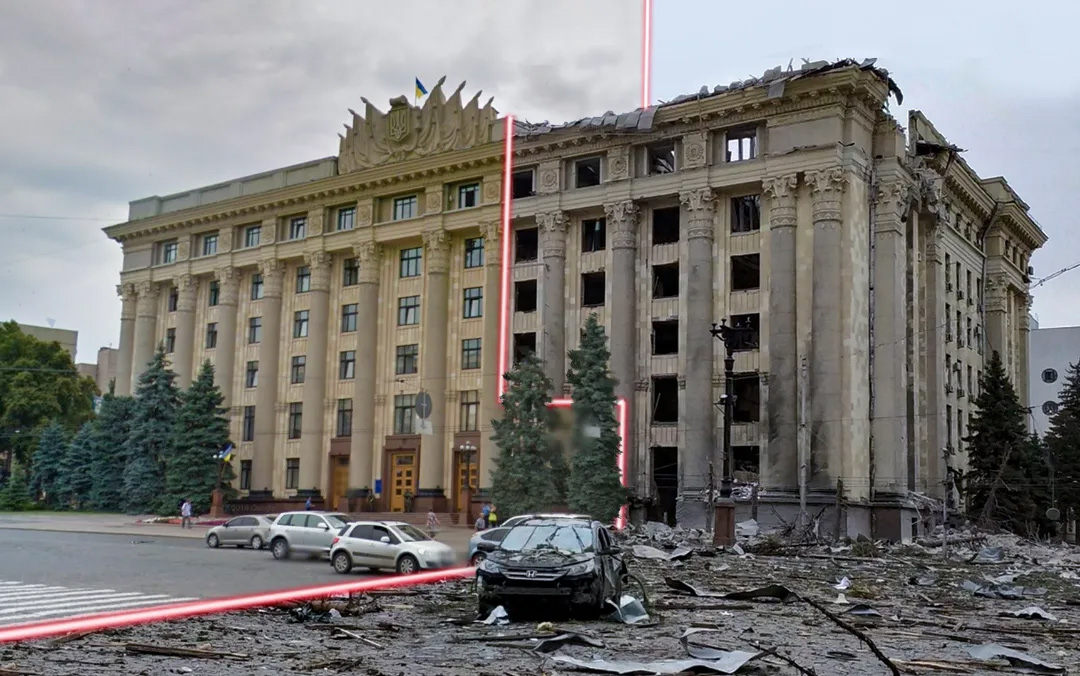 The building of the Kharkiv administration before and after being hit by a Russian missile
© Andrey Goopsa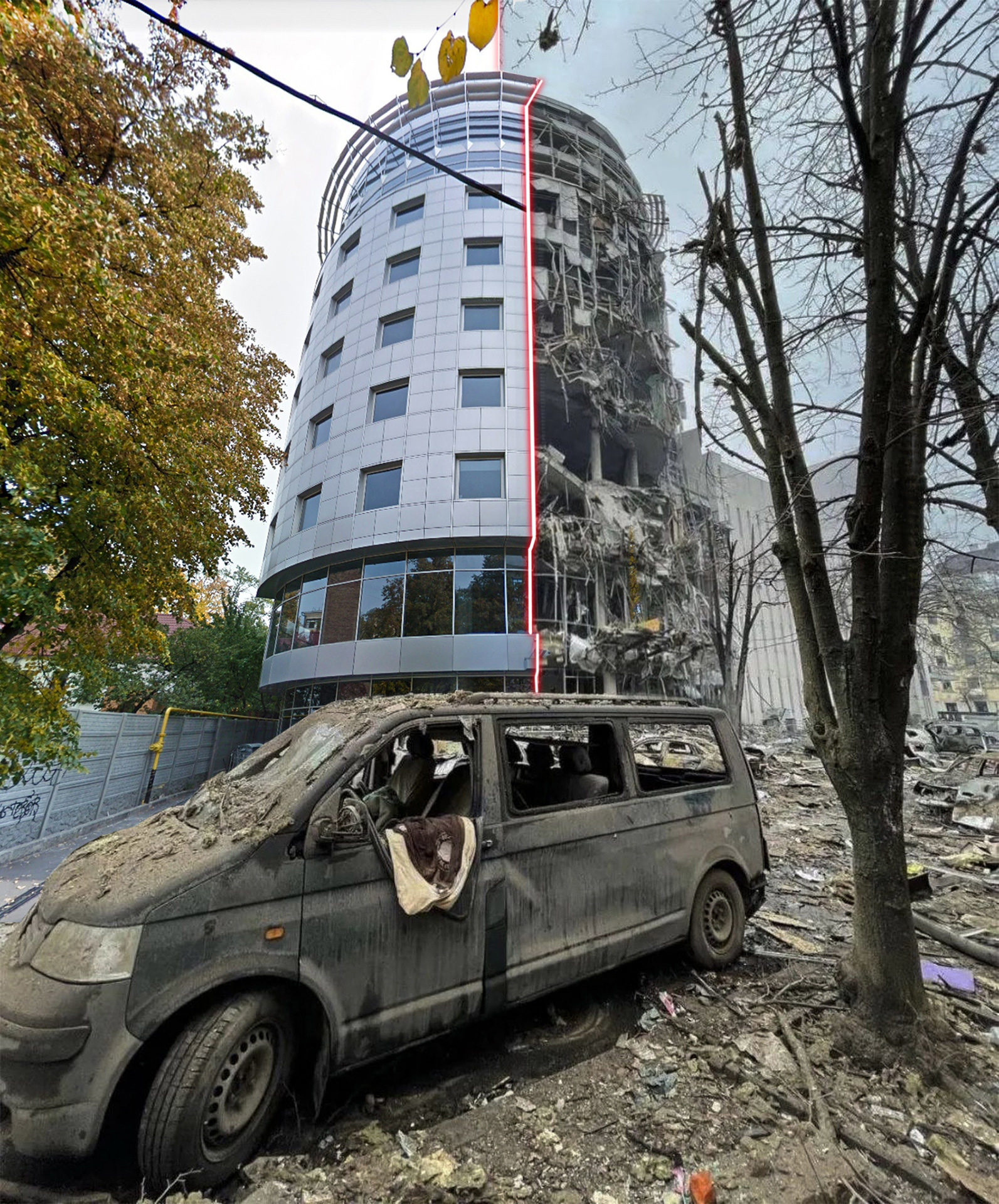 Facade of an office building in Kharkiv before and after Russian shelling
© Andrey Goopsa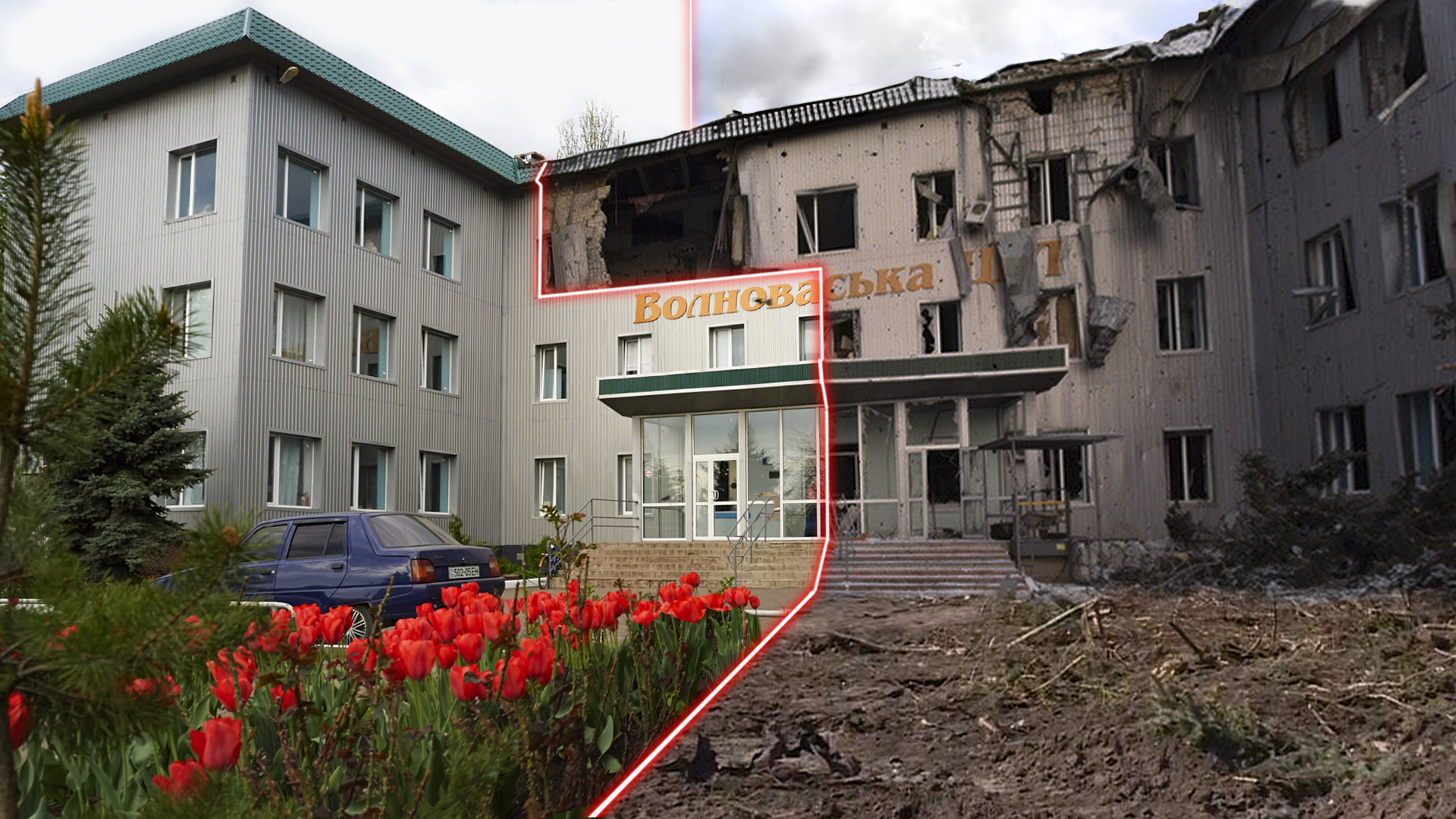 A hospital in Volnovakha shelled by Russian troops
© Andrey Goopsa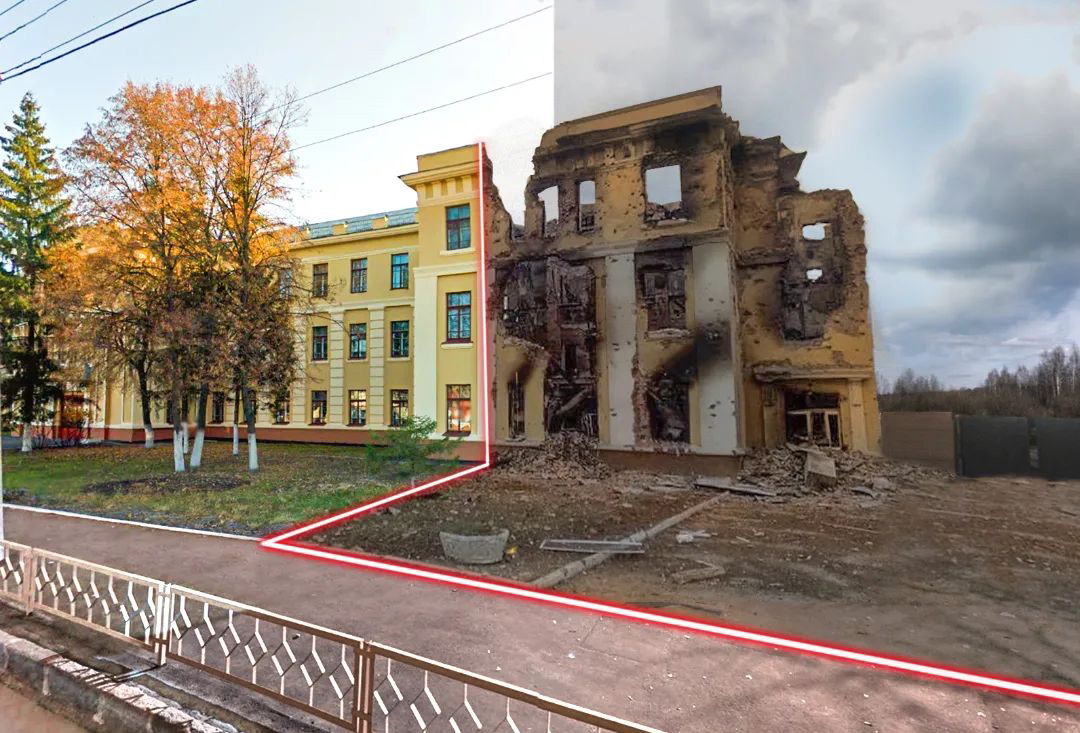 School in Kharkov
© Andrey Goopsa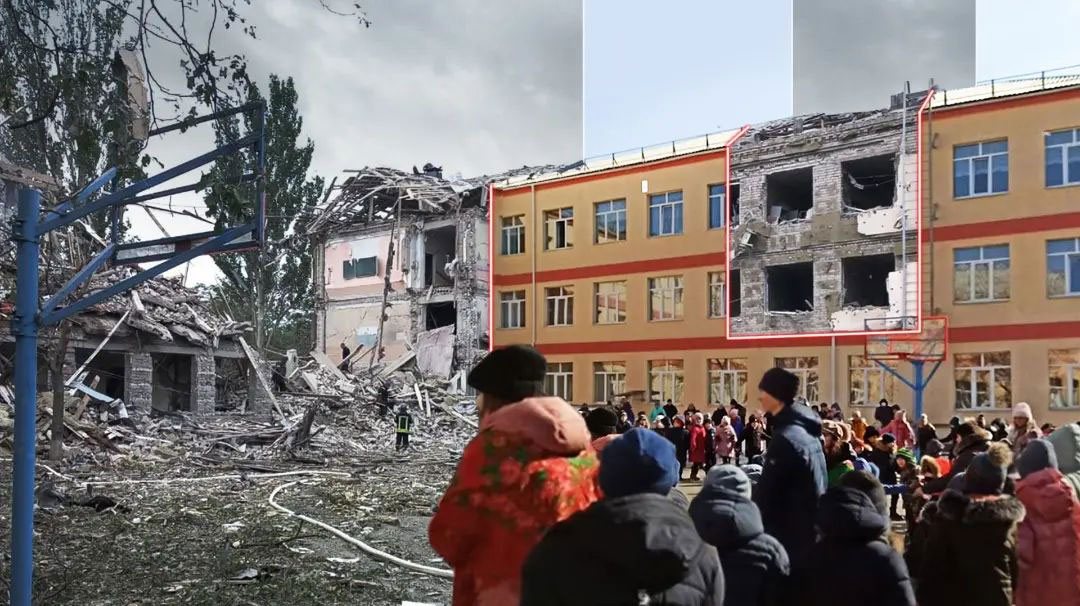 School destroyed by Russian invaders in Kramatorsk, Donetsk region, Ukraine
© Andrey Goopsa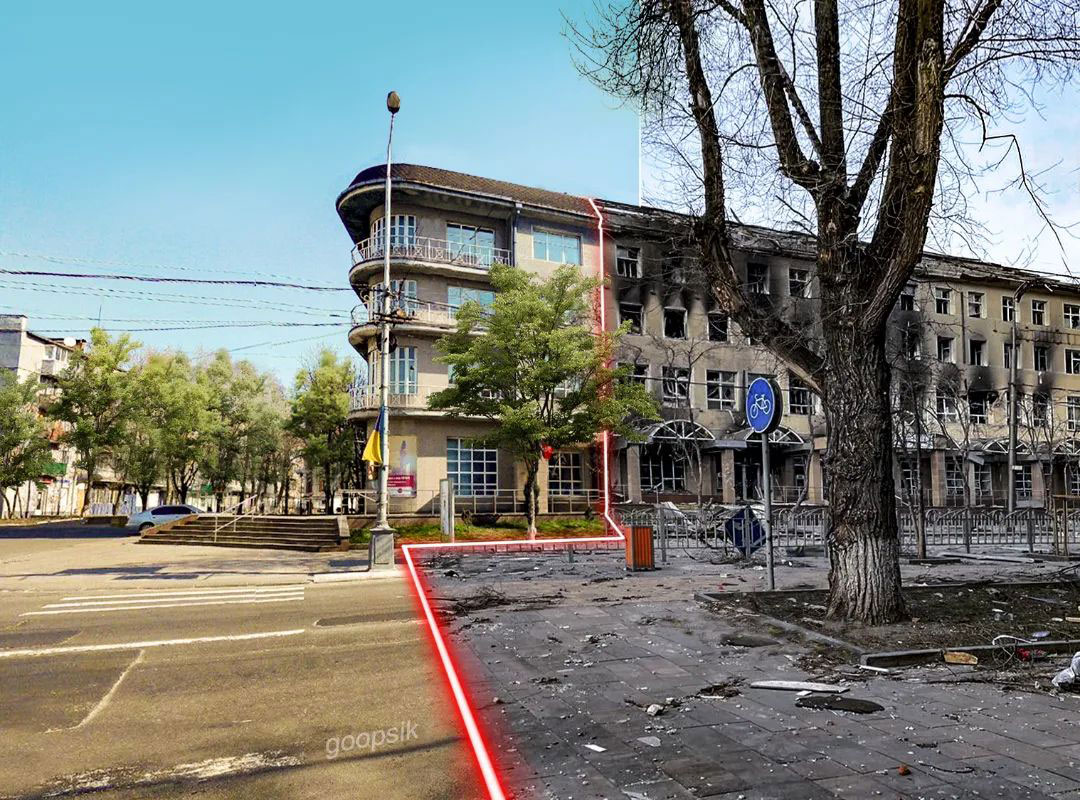 Prospect in Mariupol before and during the war
© Andrey Goopsa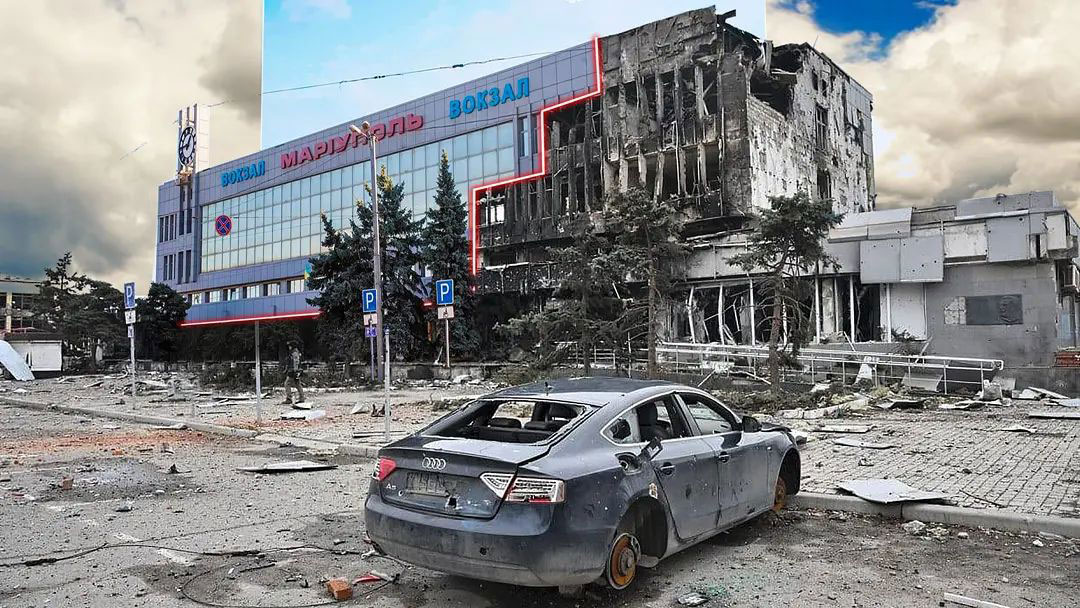 Station in Mariupol before and after the Russian invasion
© Andrey Goopsa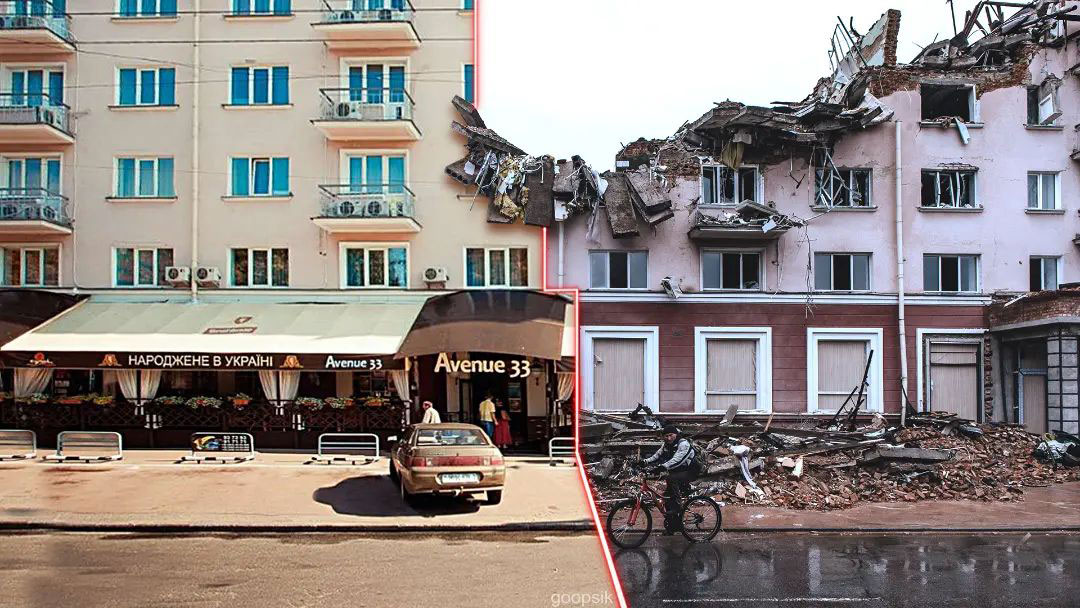 Destroyed by Russian troops hotel "Ukraine" in Chernihiv
© Andrey Goopsa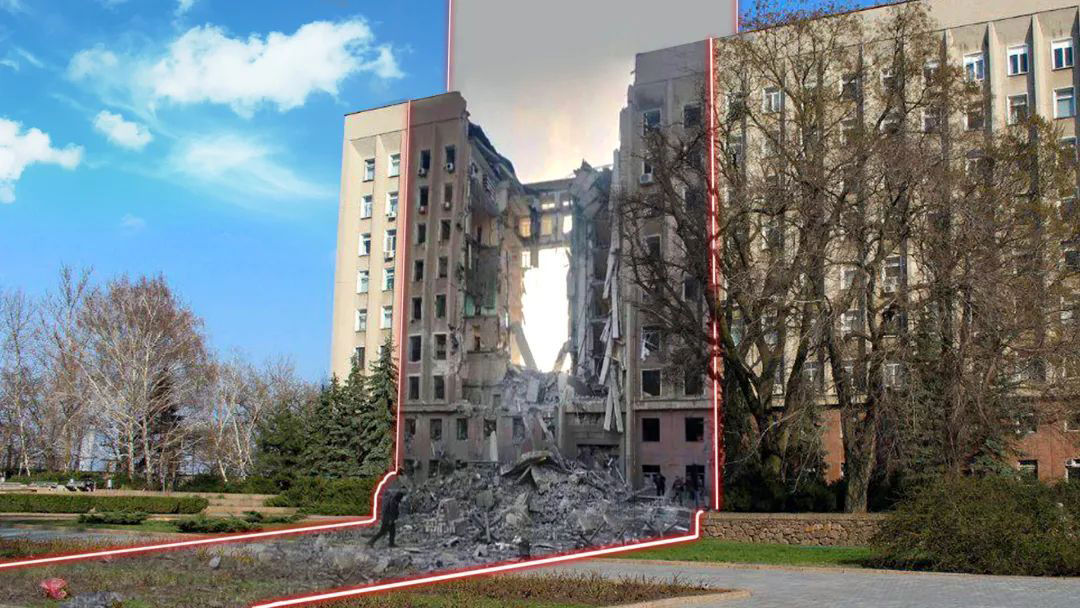 The administration building in Nikolaev after being hit by a Russian missile
© Andrey Goopsa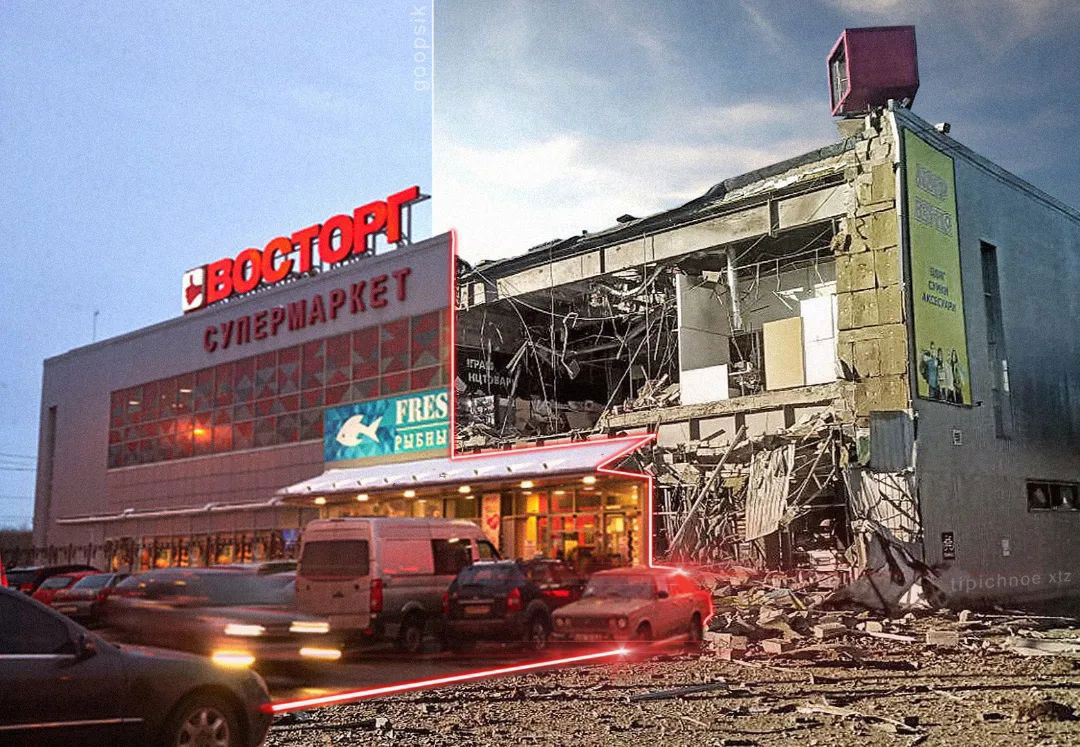 Kharkiv supermarket after rocket attack on Russia
© Andrey Goopsa
— What are your feelings and thoughts during the process of creating them?
— To be honest, during the process, I think about how to place a photo, how to "finish" the missing fragments, where to draw a line so that it is as clear and informative as possible. And there are many more small but important points. But before the start of photomontage, when I just stumble upon the photo that I will show — here, of course, I am overwhelmed with emotions. How destructive this war is and how much suffering, problems and troubles it brings.
— There are comments under the photo that the destruction is fake. Do you reply to these messages?
— It seems to me, I haven't replied... With people, who believe that the destruction in Ukraine is fake, disputes are pointless. They take a lot of time and nerves. But I am grateful to the subscribers who take on this task and cope with it perfectly.
— Earlier, before the war, you had published videos and photos of virtually restored apartments and streets of Pripyat, a city that became an exclusion zone after the accident at the Chernobyl nuclear power plant. Tell me about this project.
— Yes, in fact, my activity has begun with the project about Pripyat, which continues up to now. I thought it would be cool to show Pripyat in the 21st century. If the accident had not happened. I had certain skills and I took advantage of them. Then a second topic grew out of this one – I began to change the streets of post-Soviet cities. I have showed what has to be done with them so that they become modern and European. And this is what I am most proud of. I always wanted to do something useful. And my project is capable of raising people's demand for the improvement of cities. And if there is a request, the changes will appear.
© Andrey Goopsa
© Andrey Goopsa
© Andrey Goopsa
© Andrey Goopsa
— What's the first thing you'll do after the end of the war?
— Honestly, I want to work fully and develop with double strength. I hope it will be possible to create several projects to restore the streets. Not in their original form, but to make them more beautiful and better than they were.
Well, also we want to spend a day with my girlfriend as we used to: take a walk, go somewhere for have lunch, watch a movie together (with a cat). That's probably something like that.